Seminar/Symposium registration
7th IROAST-IRCMS Joint Seminar
本ジョイントセミナーでは、令和元年度に支援を受けた五つの共同研究グループが、研究成果報告を行います。
また、新たな共同研究の創生を希望する研究者が、共同研究パートナーを見つけるためにご自身の研究を紹介するセッションを設けます。
The 5 IRCMS-IROAST research collaboration groups of FY 2019 support will report their research progress in this seminar.
In addition, there will be a session where researchers who are willing to start new joint researches to introduce their own research and find a joint research counterpart.

Date of the Seminar

開催日

2020-08-25
Program

プログラム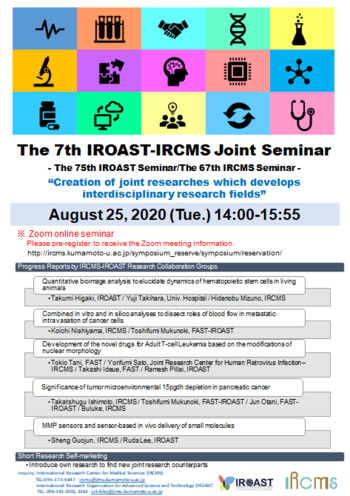 Registration has been closed.
受付は終了いたしました