IRCMS
Education
IRCMS Fellowship
The IRCMS will provide financial support to graduate students with exceptional academic qualifications and strong motivation to perform cutting-edge biomedical researches through IRCMS Fellowship. Prospective students are expected to be enrolled in the master's or doctoral degree program at Kumamoto University and to train under the supervision of PIs affiliated with the IRCMS. The Fellowship will be awarded on a competitive basis and the selected candidates will be guided through the entrance process of the Graduate School for Medical Sciences of Kumamoto University. The IRCMS Fellowship is open to applicants of all nationalities and the graduate training supported by this Fellowship will be conducted in English.
Closed for entries for 2018 Fall enrollment. Thank you for your applications.
We will announce 2019 Spring enrollment when it opens.
Applicable Departments & Reserches
Great Department

Departments

Supervisor

International Research Center

for Medical Sciences

(IRCMS)

IRCMS-I

Hitoshi Takizawa

IRCMS-II

Goro Sashida

IRCMS-III

Sheng George Guojun

IRCMS-IV

Masaya Baba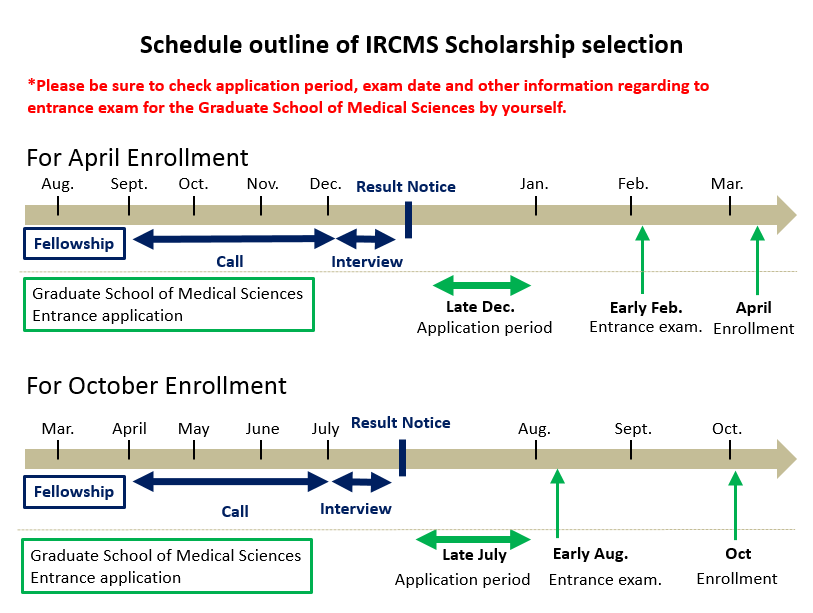 Master Course
The 2-year master course aims at providing training in medicine and life sciences for researchers, educators and highly specialized professionals graduated from a university other than Japanese medical, dental or veterinary schools or faculties. Through this program Kumamoto University is striving to educate the next generation high-caliber experts who will play leading roles in the areas of medicine, health care and life sciences.
Students are required to obtain at least 30 credits through coursework and research projects. They are required to write a Master's thesis on their research topic and orally defend it at the end of their second year. After the successful completion of the course, Kumamoto University will award the Master of Life Sciences. 
Please see the homepage for details: http://www.medphas.kumamoto-u.ac.jp/en/medgrad/education_program2/master_course/
Doctoral Course (PhD)
The usually 4-year course aims at providing medical doctors and bioscientists an excellent training to lead successful careers on the national and international stage. The students will obtain a sophisticated knowledge in interdisciplinary studies, acquire cutting-edge skills, and develop a research-oriented mindset during their studies encompassing a flexible mixture of courses, seminars, lectures by experienced doctors, experimental practice and e-learning. Students need to receive at least 30 credits during the course of their studies besides publishing papers relevant to their research and defending them publicly. Students who have fulfilled all program requirements will be awarded a doctoral degree in Medicine or Life Sciences. 
Please see the homepage for details: http://www.medphas.kumamoto-u.ac.jp/en/medgrad/education_program2/doctoral_course/
Admission
The admission to both programs at the IRCMS is centrally organized by the Graduate School of Medical Sciences of Kumamoto University. Please see their homepage for details: http://www.medphas.kumamoto-u.ac.jp/en/medgrad/admissions_top/
If you have specific questions on details of the IRCMS, please feel free to contact us via ircms [at] jimu.kumamoto-u.ac.jp .