Paper Information
Title: Twenty Years on for The Epithelial-Mesenchymal Transition International Association (TEMTIA): An Interview with Co-Founders Erik Thompson and Donald Newgreen
Guojun Sheng, Erik Thompson, Donald Newgreen and Hans-Werner Denker

Cells Tissues Orgens 2022;211:252-260

doi: 10.1159/000518250
Background
For more than 50 years after its inception, epithelialmesenchymal transition (EMT) research has been catalyzed by cross-disciplinary interactions between developmental,cell, and cancer biologists. Among those, two Australian scientists, Erik Thompson, a cancer biologist, and Donald Newgreen, a developmental biologist, played an instrumental role in steering this research community towards its current state of full blossom. They co-founded "The EMT International Association" (TEMTIA), co-organized the first TEMTIA meeting, bringing together researchers of different background, and despite divergence in their scientific approaches, they have been coadvocating the need for breakthrough discoveries on EMT-based therapeutic intervention in fighting cancer. In its early days, EMT research also caught the attention of Hans-Werner Denker, a German developmental biologist.
Through his role as Editor-in-Chief of Cells Tissues Organs (formerly known as Acta Anatomica), Dr. Denker pushed for the publication of a two-volume EMT-focused special topic issue in 1995/1996, consolidating the status of EMT as a formidable research discipline. Many of those who contributed to that first EMT special issue and who attended the first TEMTIA meeting became leaders and strong advocates of EMT research. In this interview, Dr. Thompson and Dr. Newgreen reminisce about their own career trajectories and about that of EMT, and offer advice on where this field should be heading, together with comments from Dr. Denker. The hope is that new generations of EMT researchers, less afraid of crossing disciplinary boundaries, will bring conceptual clarity, EMT-based and experimentally actionable, to complex biological phenomena in development and disease.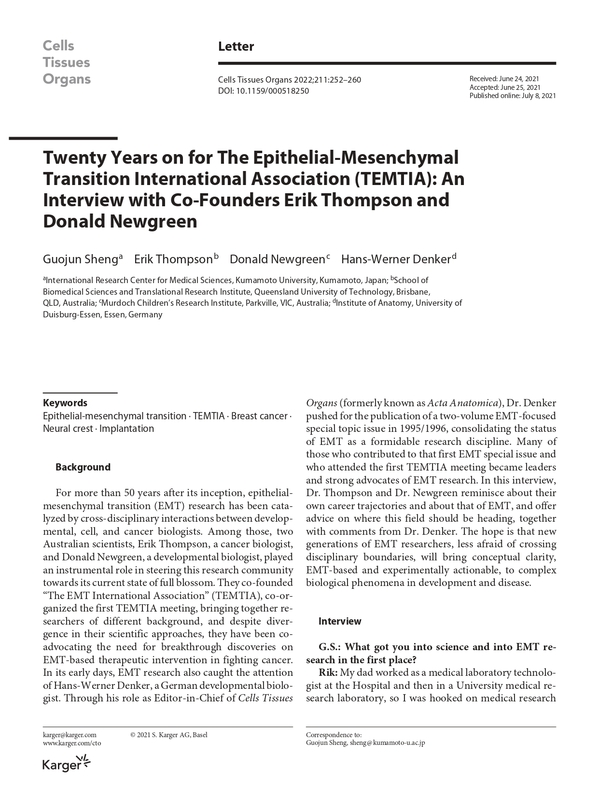 Please see the full Interview.