Lab: Takatsugu Ishimoto


Paper information

Title:
Protocol to Establish Cancer-Associated Fibroblasts from Surgically Resected Tissues and Generate Senescent Fibroblasts
Yasuda T, Koiwa M, Yonemura A, Akiyama T, Baba H, Ishimoto T*. (*corresponding author)
STAR Protocols 2021 May 26;2(2):100553. 
doi: 10.1016/j.xpro.2021.100553.
Highlights
Detailed protocol for extracting primary fibroblasts from human gastric cancer
Achieve the high isolation rate of fibroblasts by the current method
Method to induce senescent fibroblasts by inflammatory cytokines
Summary
Accumulating evidence suggests that the malignant behavior of cancer is influenced by stromal activity in the tumor microenvironment. Cancer-associated fibroblasts (CAFs), which are the main component of the cancerous stroma, play an important role in cancer development. Here, we describe a protocol to establish CAFs from surgically resected tissues. CAFs could be a vital tool for understanding the microenvironment and its impact on tumor progression and metastasis. Moreover, we generated inflammation-induced senescent fibroblasts that more closely mimic the tumor microenvironment.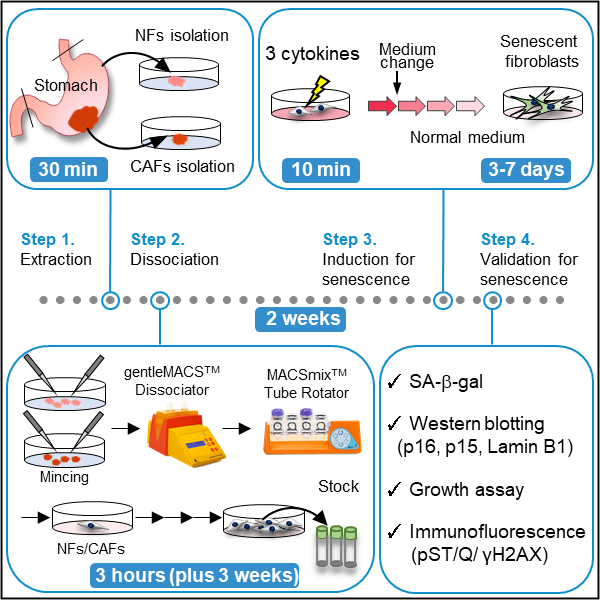 (Click for a larger image)