90th IRCMS Seminar-Symposium on New Horizons in Developmental Biology, organized by Dr. Hitoshi Takizawa, Dr. Aiko Sada and Dr. Guojun Sheng from IRCMS, Kumamoto University had been held on Feb. 20, 2023.
The theme of the symposium was set as "Facilitating Collaboration in Developmental Biology", and the symposium was aimed to match potential interdisciplinary research collaborations between Kumamoto University and respected research institute.
The symposium had started with Opening Remarks by Dr. Hitoshi Takizawa, Vice Director of IRCMS and greeting from President OGAWA Hisao at Kumamoto University. Throughout the symposium, there were 10 speakers, 8 respected research institutes in and out of Japan and 2 from Kumamoto University, to share their research projects, perspectives and experience. In addition to those sections, there was a part which laboratories from both IRCMS and IMEG had a chance to introduce their research facility. Closing Remarks by Dr. Ryuichi Nishinakamura closed the symposium with a good outlook for future collaborations.
   There had been approximately 120 participants including the speakers throughout the symposium, and they had discussed actively about their ongoing projects and future research collaborations. It is expected that future collaborations will germinate and grow.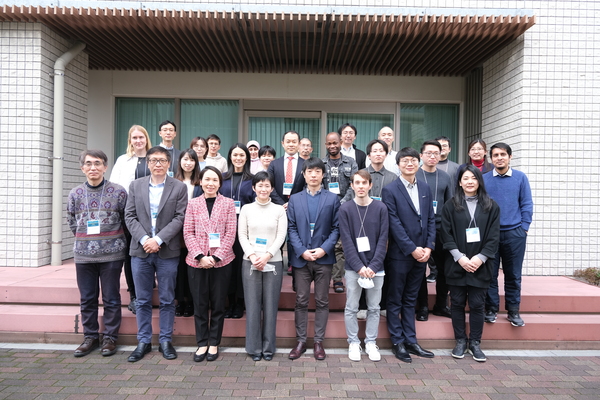 (1) Opening Remarks

Dr. TAKIZAWA, IRCMS, KU
President's Greeting

Dr. OGAWA Hisao
Speakers

Dr. Wu, Max Planck

Dr. MIHARADA, IRCMS, KU

Dr. Hanna, Weizmann Institute (online)

Dr. SANO, Kurume University

Dr. KOSAKAMOTO, RIKEN

Dr. Tei, Stanford University (online)

Dr. UMENO, Waseda University

Dr. Phng, RIKEN


Dr. OKAE, IMEG, KU

Dr. Marzi, University of Tübingen
Closing Remarks

Dr. NISHINAKAMURA, IMEG, KU
Lab tour
Flyer: (Click for a larger image.)