IRCMS and IROAST (The International Research Organization for Advanced Science and Technology) were held a joint seminar.
Please see below for details. (Reviewed the page of IROAST SYMPOSIUMS & SEMINARS)
---------------------------------------------------------------------------------------------------------------------------------------------------------
IRCMS & IROAST Joint Seminar on Bioengineering-Cutting Edge Collaborations, was held on January 22, 2018. The seminar was organized by IROAST vice director Jun Otani and IROAST distinguished professor Yufeng Zheng. Following the organizers' opening remarks, five speakers from the medical and engineering organizations gave presentations on their research.

After their talks, five researchers from FAST gave short presentations on their seeds for medical-engineering collaborations. Vice director Otani gave a talk in place of Dr. Mukunoki who unfortunately could not attend the seminar.

In the following discussion time with vice director Otani as a facilitator, the speakers and participants discussed about how they can launch and promote new medical-engineering collaborations in the future.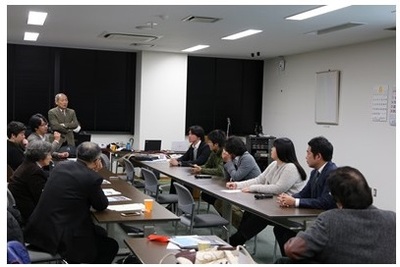 ---------------------------------------------------------------------------------------------------------------------------------------------------------