Name: Arusyak Ivanyan
            Yerevan State Medical University
Visiting Period: September 26th (Mon) - November 18th (Fri), 2022
Country: Armania
Research Topic
Regulation of 3D genome structure for c-MYC expression by β-catenin, TCF4 and PRMT5 in BPDCN cells.
Activities and Progress
Using the CRISPR method, vectors of 2 TCF4 knockout genes (TCF4-sg-1 and TCF4-sg-2) and 2 β-catenin knockout genes (CTNNB1-c1and CTNNB1-c2) were constructed.
Bacteria colonies of TCF4-sg-1, TCF4-sg2, CTNNB1-C1 and CTNNB1-C2 vectors were cultured and DNA was extracted. To check the sizes of vectors gel electrophoresis of bacteria DNA and DNA cut with BSMBI was performed (Picture 1).
When there was a difference in vector colonies and the original, cut with BSMBI, successful colonies were amplified (Picture 2) and DNA was sent to check by sequencing, and when there was no difference, the vector construction steps were repeated. TCF4-sg-1 vector succeeded at week 1, TCF4-sg-2 at week 6, and beta-catenin clone 2 (CTNNB1-C2) at week 7.

Next, transfection of HEK293T cells with TCF4-sg-1 and TCF4-sg-2 KO vector as well as control viruses was done, and the viruses were extracted from HEK293T cells (48h) to infect CAL-1 cells.
Flow cytometry of infected CAL1 cells was performed to check if the infection was successful and sort them.
*Cal-1 cells, infected with TCF4-sg2 knockout viruses mostly died. Part of the control infected cells was lost during filtration, thus they were sorted into Isogen only. Not infected CAL-1 cells were sorted into RPMI as control.
CAL1 and Lenti-t cells were cultured and passaged.
CAL1 cell were culture with PRMT5 inhibitor (GSK595) with DMSO, 5Mm, 1.25Mm,. 31 Mm, 0.078Mm PRMT5 inhibitor and No DMSO and inhibitor, the number of cells was counted (figure 1).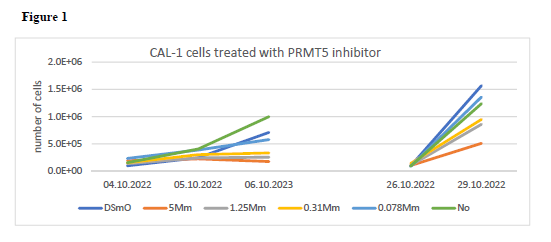 qPcr of c-MYC, b2M (control), TCF4 and β-catenin genes was done in GSK595 treated CAL-1 cells, to check if the level of c-MYC, TCF4 and β-catenin expression were decreased (Figure 2; 3).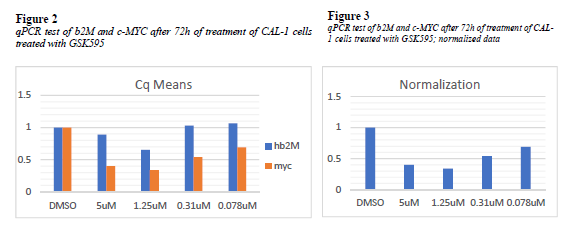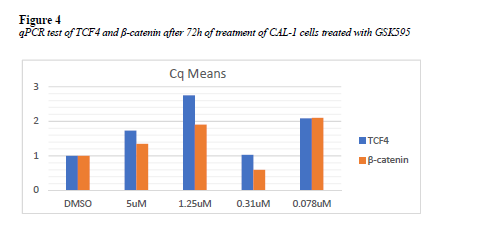 3c assay of GSK595 treated CAL-1 cells was done to detect c-MYC-promoter, RUNX-super enhancer and TCF4 enhancer interaction.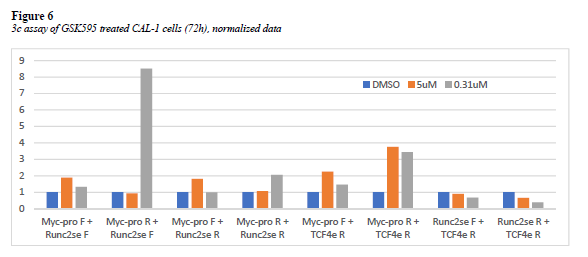 This experiment aimed to understand if c-MYC gene expression is affected by β-catenin, TCF4 and PRMT5 in BPDCN cells. We found that treatment with PRMT5 inhibitor decreased c-MYC expression in CAL-1 cells. We also found that also interacts RUNX-TCF4 interaction. Further experiments are needed for comprehensive analyses of the 3D genome structure of BPDCN cells.