Name:  Raikhangul Gabdrashova
             University of Turin
Visiting Period: July 13th (Wed) - August 10th (Wed), 2022
Country: kazakhstan
The research topic of my internship of one month at the laboratory of Dr. Hidenobu Mizuno was "two photon calcium imaging of neonatal mouse brain cortex (barrel cortex)". During this stay I performed in utero electroporation and learned how to perform 2 photon calcium imaging experiments on neonatal mice (Image 1) including the surgical preparation of the mouse pup. In addition to practical skills, I have increased my theoretical knowledge in the field of developmental neurobiology and the two photon calcium imaging method.
Image 1. Experimental setup of two photon calcium imaging of the barrel cortex of the mouse pup
Apart from the work in laboratory, the stay in Japan overall has been an enriching experience. People working at IRCMS have made this stay especially welcoming by being supportive and open as well as eager to show around the city and travel around Japan. Moreover, the presence of international researchers/visitors at the Institute facilitated the adaptation to the Japanese culture.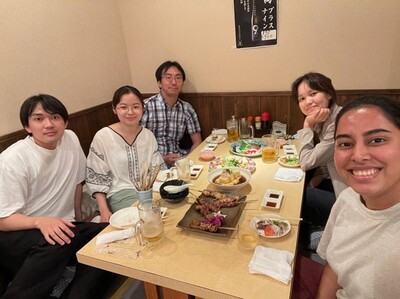 Welcome party from the Mizuno lab